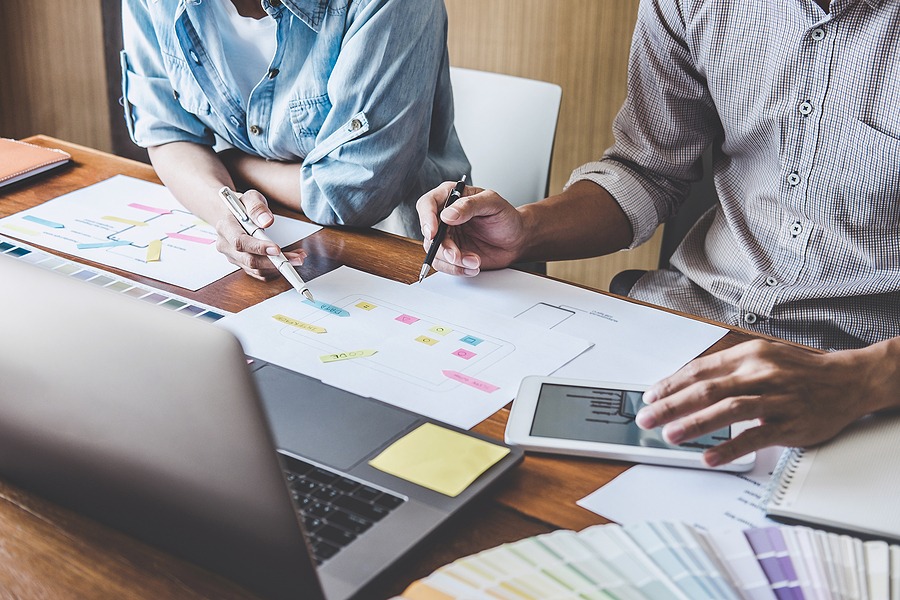 What is Page Experience?
In May 2020, Google released information about their May 2021 page experience algorithm update. In it, they shared what the popular search engine would look for when determining rank for pages. This update has a direct effect on SEO best practices for 2021.
Starting May 2021, core web vitals will help Google rank a website to prioritize a good user experience. While this is a Google-specific update, updating these factors for your website will likely help you rank higher on every other search engine.
Core Web Vitals
The criteria used to judge a good page experience is referred to as Core Web Vitals. These are a list of various factors that help Google determine a user's experience of a web page. This is then used to rank web pages and websites for user experience.
Core web vitals are made up of a few elements, including:
Largest contentful paint
First input delay
Cumulative layout shift
In addition to core web vitals, the Google page experience update will look for:
Secure websites
Mobile friendly pages
Page experience (solid core web vitals, secure site, mobile responsiveness) will be an important factor for Google search ranking.
Largest Contentful Paint
Largest Contentful Paint (LCP) measures the loading performance of a website. If a website doesn't load quickly, users will likely bounce off to find a more responsive website to spend their time on. To ensure that your users have a good experience with your website, the largest image or text block should load within no more than 2.5 seconds.
First Input Delay
First Input Delay (FID) measures load responsiveness of pages within a website. A low FID marks a page as unusable in the eyes of search engines. FID measures the time it takes between a page's loading and a user's first interaction with the page. The delay then is the time it takes for the website to load before being available for processing user inputs. A good first input delay should be under 100 milliseconds.
Again, this cements the fact that a responsive and fast loading website is incredibly important to its SEO health. Without a responsive website, your website will rank poorly for page experience.
Cumulative Layout Shift
Cumulative Layout Shift (CLS) measures visual stability of a page. If you're reading content on a web page and that content shifts while you're reading, it can be distracting. Or if you go to click on a link and it moves, you may inadvertently click on something else. These examples are results of poor visual stability and can cause poor user experience.
See: Website Design Mistakes to Avoid in 2021 and Beyond
Secure Website
Having a secure website is incredibly important when it comes to having both a good page experience and good overall SEO. Google and other search engines prefer to rank websites that have a secure connection over ones that don't.
You should make sure that your website has a secure and private connection to keep the information safe for those who use it. You can do this by securing your site with a security certificate.
Mobile Friendly
As a good portion of people tend to browse the web from their mobile device. So it's important to make sure that your website is optimized for mobile use. A poorly designed mobile website (or no distinct mobile website at all *GASP*) will quickly turn users off. You risk losing your customers to a competitor with a better website.
[Also check out: When Should I Hire a Website Designer?]
Tools for Testing Mobile Responsive Design
Google Mobile-Friendly Test
You can easily check if a web page is mobile-friendly by using Google's mobile-friendly test. To use the tool, type in the full URL of whatever page you're looking to test. It will take less than a minute to run the test. Afterward, it'll show you a screenshot of how the site looks on mobile, as well as a list of any mobile usability problems that it finds.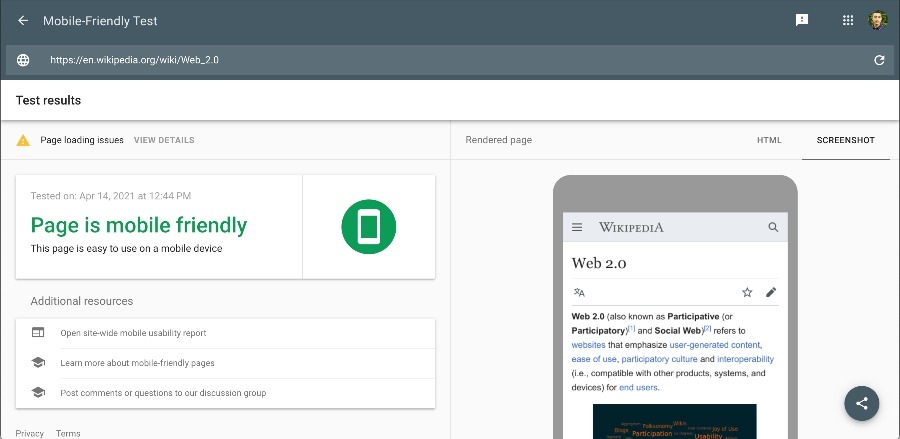 Experte Bulk Mobile-Friendly Test
Another free resource is the Experte Bulk Mobile-Friendly Test. With the Experte mobile-friendly test, you just enter the domain URL and it crawls the entire site. It can search up to 500 URLs, testing all of the pages under your domain.
You can also submit a list of specific URLs. It will tell you which ones are mobile-friendly and which ones need work. You can also use Experte's test to look at mobile-friendly websites for different keywords.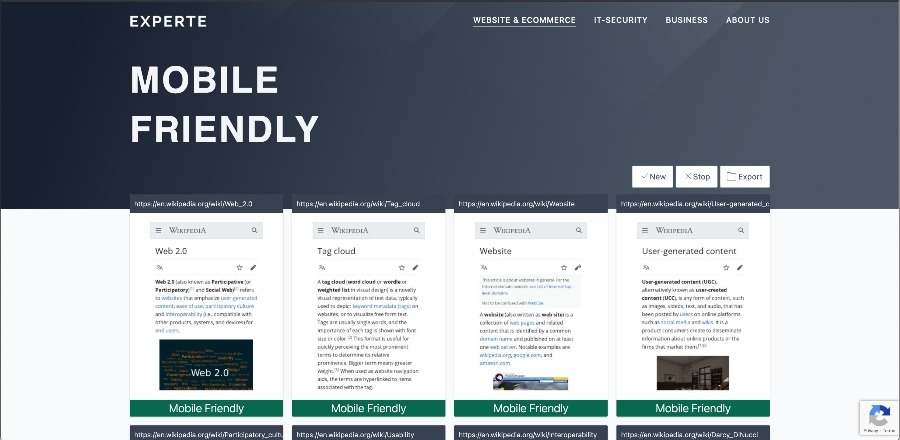 Tools for Testing Page Experience
There are many tools available to help you test the performance of your website to make sure that it's well optimized for the page experience update coming out in May 2021.
Google PageSpeed Insights
PageSpeed Insights allows you to type in a URL to have the content of your web page analyzed. The tool will analyze core web vitals among other metrics for both mobile and desktop versions. PageSpeed Insights will also make suggestions on how to make your website faster. This is a good tool if you can't seem to figure out why your website is lagging or too slow. This tool becomes all the more important with Google's page experience update.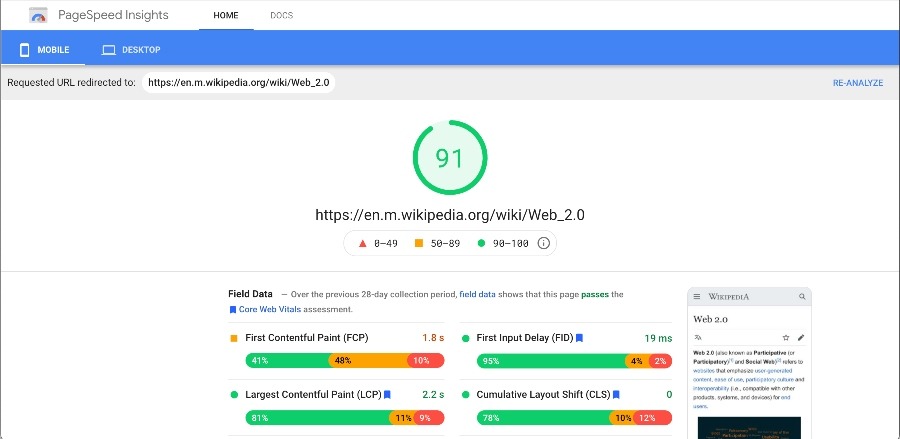 Experte Page Experience Tool
Experte's Page Experience Tool can help you make sure that you have everything you need to find success with Google's new page experience update. It will check your websites for the same core web vitals that Google tests. It then scores each site in a full core web vitals report. Again, these criteria include Largest Contentful Paint, First Input Display, and Cumulative Layout Shift.
Based on the results, you'll be able to figure out what you need to improve to increase your web page ranking on Google.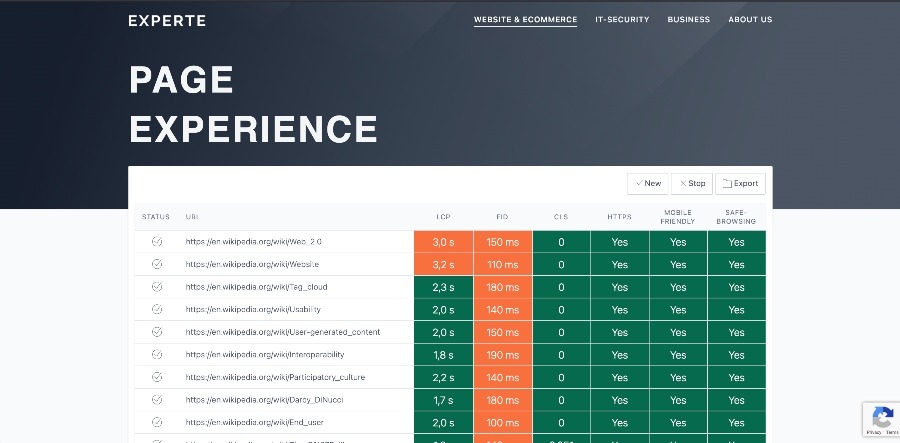 Why hire an SEO firm?
It's asking a lot already of a business to focus their energy on a stellar product or service and customer service. Add to that search engine optimization for your website, and it's asking a bit much. Hiring an SEO agency will allow you to spend more time working with your customers and less time worrying about your digital impression.
At Site Social SEO, we will help you make sure your website is ready and optimized for this page experience update and every experience update in the future. We create customized marketing solutions for our clients to determine exactly what they need to succeed in the modern market. For more information, contact us online or at 407-712-0494.